Why is permitting anonymous reporting so important?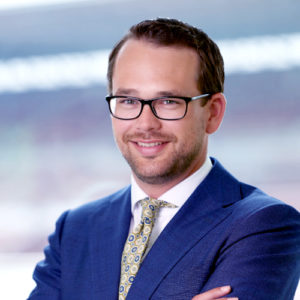 People Intouch is a Dutch company that provides complete solution to companies that want to engage in whistleblowing and anonymous dialogue with their employees and other stakeholders. Available 24/7 via both web and phone, their SpeakUp tool is used in 80 languages and active in nearly every country in the world. With  assurances on Privacy and Information Security, SpeakUp is the preferred choice of compliance teams at Royal Haskoning DHV, IKEA, Nestlé, Roche, Randstad, BMW, TUI, UniCredit, Carlsberg, Associated British Foods, Transdev and many more.
Martijn Boone is a SpeakUp Consultant and in charge of the Business Development Team at People Intouch. Carrying responsibility for markets such as Germany, France and Switzerland he has wide experience in consulting organizations ranging from local companies with 50 employees to large multinationals boasting workforces beyond 300.000 people.
How does SpeakUp® contribute to address corruption?
Discussing misconduct is never easy, but it is particularly difficult in Europe due to a history of oppressive regimes that promoted 'snitching' (Fascism, Revolutions, World Wars, Dictatorships, etc). To this day, there are cultural norms that make it hard for people to report (suspected) misconduct by colleagues (sometimes even friends) they might have been working closely with. Thus, to ensure that even individuals who face difficulties in reporting feel comfortable speaking up, the barriers to making these reports must be lowered as much as possible. SpeakUp is often positioned as a last resort for reporters who do not feel comfortable with in-person or in confidence reporting and who will only take that step with guaranteed anonymity.
How does SpeakUp® help companies comply with legislation and certifications?
SpeakUp is beneficial for every organization that is interested in improving their positioning on Ethics & Integrity topics in general. However, we often engage with companies pursuing specific goals such as ISO 37001 certification, an improved EcoVadis rating, preparing best practice corporate governance structures before an IPO. Lately, we have engaged with many companies on this topic in light of the upcoming European Whistleblower Protection Directive, which is to be enforced from December 2021 onwards. For other organisations, things are more straightforward when taking in account specific laws such as Sapin II, FCPA or UK Bribary Act. The latter three examples specifically require an organization to set-up (anonymous) reporting channels for employees and other stakeholders (e.g. suppliers/vendors etc).
How does SpeakUp® balance between anonymity and false reports?
The essence of a well-functioning reporting mechanism that allows for anonymity is to balance it as best as possible. There are various interplays between for example the interests of the reporter versus those of the organization, as well as user-friendliness versus security and privacy measures.
Over the last 16 years, People Intouch has worked closely with their clients to fine-tune this balance. These efforts have resulted in a system that is positioned less as a traditional one-way reporting system that allows reporters to 'throw information over the fence'. Instead, this system is designed to establish direct dialogue between reporters and organizations in pursuit of re-establishing trust through various cycles of communication (see below). This communication process facilitates the verification of anonymous claims which are made, by supporting documentation or other substantiation shared by the reporter.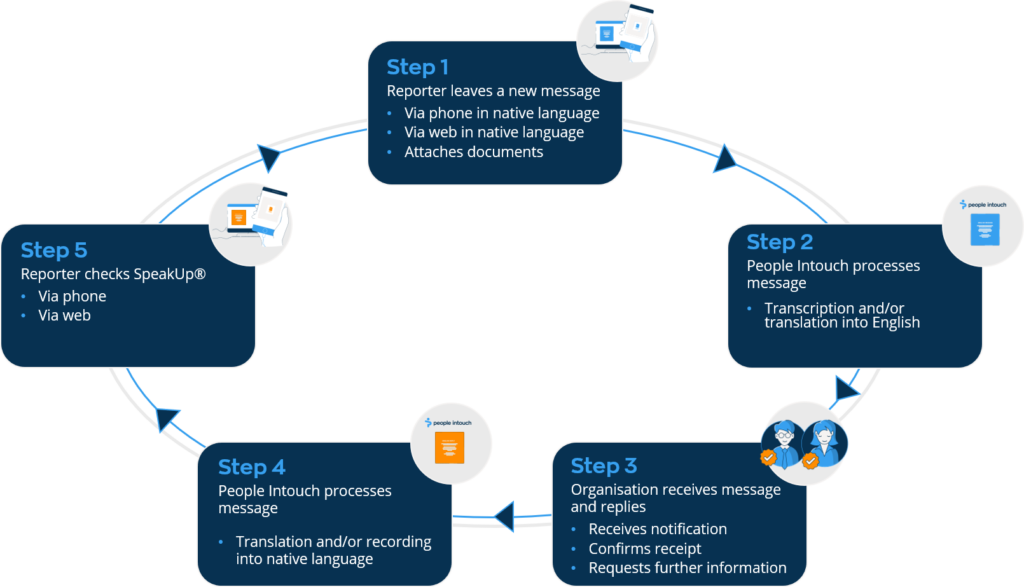 Of course, the system is not the only means through which trust and transparency can be (re)built. SpeakUp can ultimately only become a success when key aspects such as Policies, Communication & Awareness, Workflow and Legislative matters are balanced as well. Questions that should be explored to ensure success are:
When do we open an official investigation based on anonymous intelligence?
How do we handle situations where senior management is implicated?
What is the best tone-of-voice to ensure positive landing of the system in the workforce?
How do we collaborate between our Group Compliance Team and local investigator units and ensure consistent work process?
How do we balance GDPR, EU Whistleblowing Directive, Local Works Council laws and far-reaching laws such as FCPA in one program?
For more information see www.peopleintouch.com .